Our customers tell us why they've chosen us again and again to be their transportation provider. In short it's service excellence.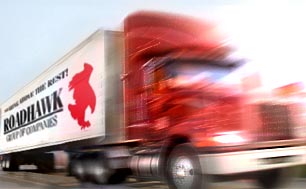 Our customers tell us they like calling and getting a professional right away—not voice mail. Whether you call, e-mail or fax, we'll give you the facts promptly and accurately. And delivery confirmations are just as important to us as estimates. We strive to make every detail of our service excellent, because you tell us that it's the whole package that matters, not just the price.
Customers tell us our convenience and dependability counts; one-stop shopping providing all your transportation needs on a global basis, quotations on the spot, and the assurance that the Roadhawk team can provide direct load and go service—resulting in fewer potential damage claims and theft.
But more than anything, our 99 years of combined transportation experience has taught us to listen to you—to provide you with the service that you ask for. If you need a shipment moved out of business hours, every member of our dispatch team is just a cell phone call or page away. So ask us for what you need. If you're seeking a Canadian company fully experienced with many industries, satellite tracking, a 99% service level of on-time deliveries and competitive rates, you'll find that Roadhawk is ready to deliver—and deliver again—service excellence!

Strategic Partnerships

At Roadhawk, we carefully manage all the details for you. Our strategic partnerships with our transportation partners must meet our service agreement criteria: licensing, safety compliance, late model power and air ride logistic equipment, tracking facilities, up-to-date cargo and liability insurance.
Our established relationships with the best carriers and our history of always paying promptly means that you get the best carriers for your money, and we get the best rates from these premium carriers and pass them on to you.









Last updated August 1st, 2003. This website copyright Roadhawk Group of Companies, 2003 -